Percy Street
Programmer at Tetralabics, a web-site consultancy in Oxford. Lives with Petro. Fancies Catherine and Manzil. Used to have a thing for Daubeny back when they were students. Likes giving backrubs.

Catherine Strasse
Recently split up with her girlfriend Witney, Catherine has moved to Oxford and got a job at Tetralabics as a database programmer. Her flirtation with Daubeny has ended up with her in Dauberny's bed.

Storm Petrel (Petro)
Percy's housemate and occasional lust object. Programmer at games studio Avicarious Catharsis, where he annoys his colleagues by 'fixing' their bits rather than working on his own.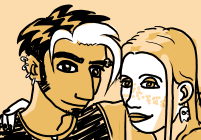 Manzil Way and Daubeny Parker
This happy couple both work for Avicarious Catharsis. She recently spent the night with Catherine, while he had a threesome with Percy and Ramsey.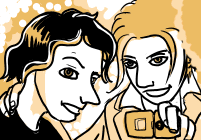 Divinity and Luther
First seen at Petro and Percy's party, where Divinity was acting as deejay and Luther was dispensing dangerous advice to Percy.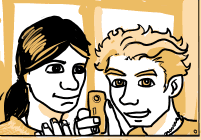 James and Ramsey
These two came all the way from London to attend Petro and Percy's party. James is a little jealous of Ramsey's affections, but that didn't stop Ramsey from having sex with Percy and Manzil while his boyfriend was upstairs.